Just flew in from Bilyana and boy! are my wings tired.
Much too tired to do anything but post pictures.
This was the most beautiful hair I saw at the festival. A festival where beautiful hair was commonplace.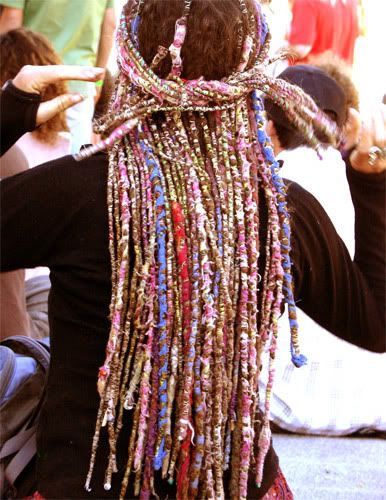 And detail, because I just can't look at it enough. I have plans to do this to my own hair once it turns white (which shouldn't be too long, now)...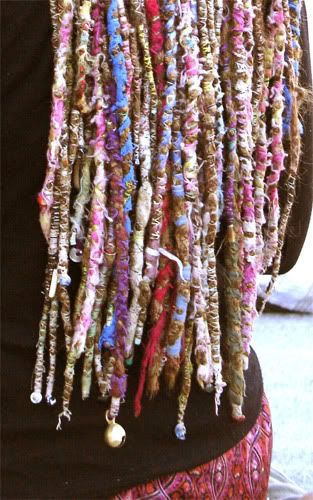 The girl herself was beautiful, too, but I didn't want to kill her high by sticking a camera in her face. I do try not to be an asshole.
The main stage area, where I sat (rather comfortably, crocheting) for six hours, spiritually willing Sarah to find me, because none of our phones were in network range, and I'd managed to lose all five kids...
A stilt-walking phoenix I know from Nymagee, who rarely flies this far south....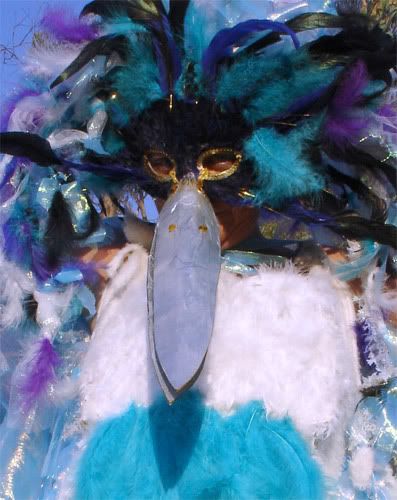 There was fair trade coffee, and fluffy chai, so it was always going to be alright...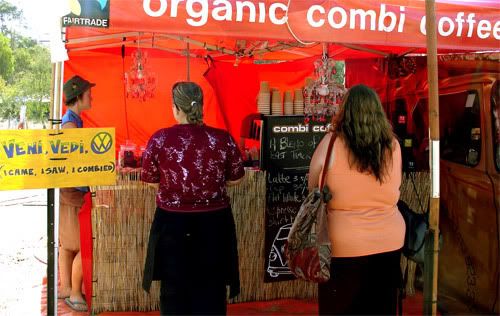 And truly excellent, healthy, clean food. Ever tried a nutella taco? They're trippy.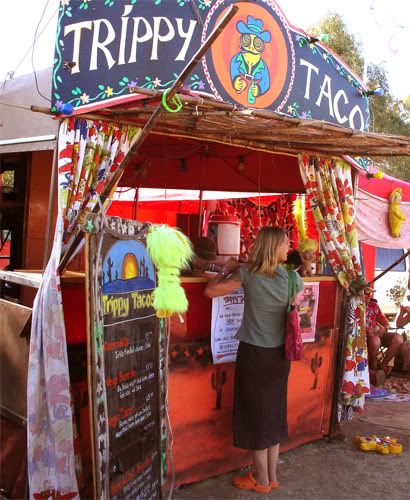 My Godson, The Polly Man, in his first (official) public performance, in front, on drum. A big moment, this. He was working it. He was working it hard.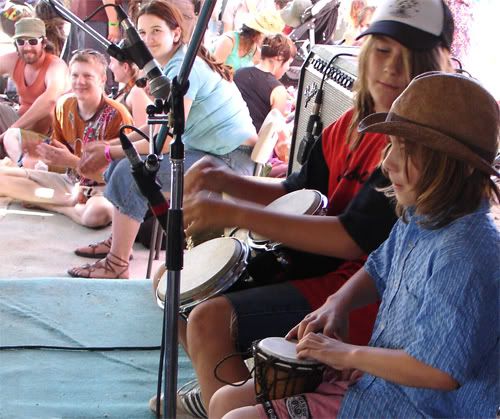 A beautiful boy I saw dancing in the sun. He was extremely relaxed. I ask you, just what does it take to look this damn healthy?...
There were excellent eco-toilets. Clean, fast, fantastic. Don't forget your lavender sprigs.
And there were miles..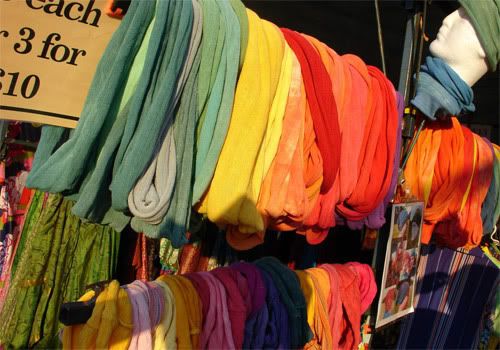 and miles...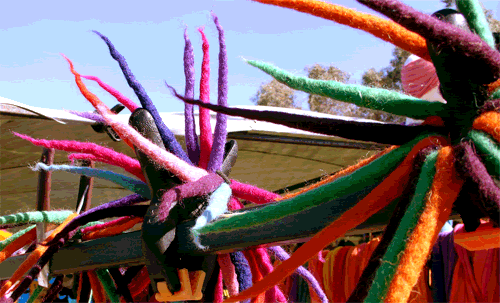 and miles..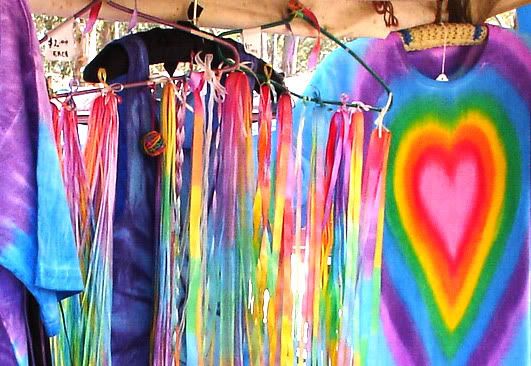 of hippie crafts. I was born and raised on hippie craft, and I never tire of it. I love the whole Colour Pride thing going on.
But this is what we saw on the way out. Looks like beautiful morning mist, right?
Wrong. It's haze. Smoke. And lots of it. That means bushfire.
Six bushfires burning, I'm told, in various regions around the festival. As June Carter would say, a Ring of Fire. Come to think of it, I had noticed a shitload of CFA firemen moving in and out on the shuttle.
Jesus, Mary and Joseph.
However, The Goddess protected us all, and, as far as I've heard, there have been no reported sightings of barbequed hippies anywhere in north-eastern Victoria this weekend. She also sent us a double rainbow over the main stage to kick the festival off, so we all figured we were sweet.
Oh, and she spoke to me personally.
She told me to have a bath the minute I finish this post. And to pay special attention to my feet, please. Curiously, just like my own mother would have.
May She be with you always.
Peace and love.
(ps. The rest of the photos are here).