In a fit of madness last week, I signed up for The Creative Act, a project running through NYU.
Each participant commits to one Creative Act per day, one theme per week, for four weeks.
Once a day they post their work to the site.
I pledged to produce one design per day, on paper, as a way of kick-starting this year's Grand Plan (being to produce an impressive and coherent body of work, that's going to Wow! everybody on the planet, thereby assuring me that I really can be an Artist When I Grow Up).
I currently have this thing going on for birds, an unexpected byproduct of my time in Bombay, and an inevitable consequence of staring at the work of these three people, without blinking, for much too long.
And please, bear in mind that drawing is not one of my strengths. I find it an agonising, time-consuming process, and avoid it as much as possible. Also, that these designs are created specifically for a textile medium, and are not necessarily meant to make sense to anyone but myself.
For Week 1, I chose the theme of
Air
Yesterday's offering came easily enough...
but today's took longer than I could ever possibly admit to. I find the process of simplification particularly difficult, and a great deal of reduction went into this one. It may as well have been drawn in blood, for all the grief it gave me...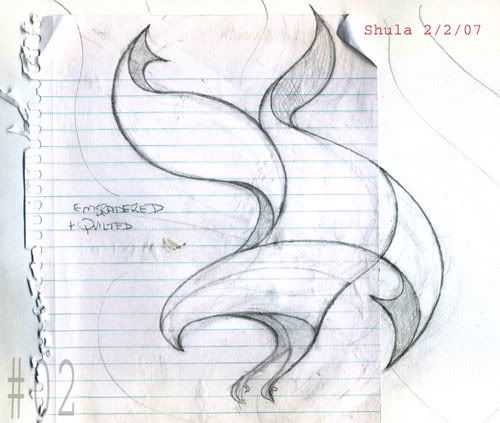 This project is looking like taking most of my creative time for this month. And may well kill me. But if I can do it, I will have the rest of this year mapped.
And you will be looking at a very satisfied (horizontal) girl.