A sudden plethora of lace-weight yarn in the blogosphere has prompted me to post my own.
Behold. Aurora 2 ply lace-weight 100% silk: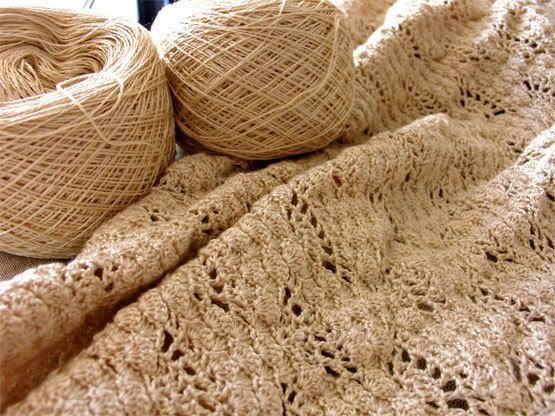 And no, I'm not being sponsored to sing the praises of the OM-chanting, peace-loving, environmentally-friendly Aurora, but I am open to suggestions. This yarn is just beautiful. You can feel the love.
I've been working on this particular epic for, um, about 2 years. I started it just before I moved house as a way of having something to do with my hands once I'd packed up the studio. The thought of not being able to access my myriad half-finished projects filled me with unspeakable panic.
And I carry it everywhere, because it wraps up small enough to fit in my (ever-ready Capricornian-sized) handbag, in the unforseeable event that the car breaks down (unlikely, these days, but used to be a regular occurrence), I get trapped in a tedious social situation (considerably more likely), or, God forbid, find myself somewhere that I am NOT ALLOWED TO SMOKE (very likely, indeed).
I suppose it's a wrap, of sorts. I've never really stopped to consider what I'm going to use it for, though I confess I have always imagined a baby swaddled in it, it's so soft and beautiful against the skin, and still has that gummy smell of raw silk, which reminds me of babies anyway.
The last time I made something like this was in 1993. I was in Greece, where every old yaya I encountered insisted I must be pregnant, because I was crocheting a baby blanket. I knew, (immaculate conception notwithstanding), that I wasn't pregnant at all, and didn't think for a minute that I was crocheting a baby blanket. I just thought they were all completely mad.
And then, unexpectedly, I found myself home in Melbourne, 6 weeks later.
And bugger me if I didn't get knocked up. Pronto.
Witches. The lot of them.
Of course, these days, being on the Dirty Harry side of 40, and about as likely to partner again as to vote for John Howard in the next Federal Election, any further pregnancies could be considered an extremely low order of probability.
So, perhaps I'll just pop this one in the tallboy and wait for Mym to take a trip to Greece when she's older.
Download pattern here.